Getting Started with a Synopsis
If you're looking to get started with just a Synopsis, you've come to the right place. We understand that developing a story can be a daunting task, which is why we've added Subtxt Muse--a virtual story assistant that knows everything there is to know about story structure.
To begin, simply ask Muse a question like "do you see any structure in this synopsis?" or "what structure do you see in this synopsis?" and then provide a simple paragraph or two explaining your story. Muse will read your synopsis and begin to identify any of the structural or dynamic appreciations that create a Storyform. A Storyform is the blueprint of a narrative and is a necessary thing to have set before you can start developing your story.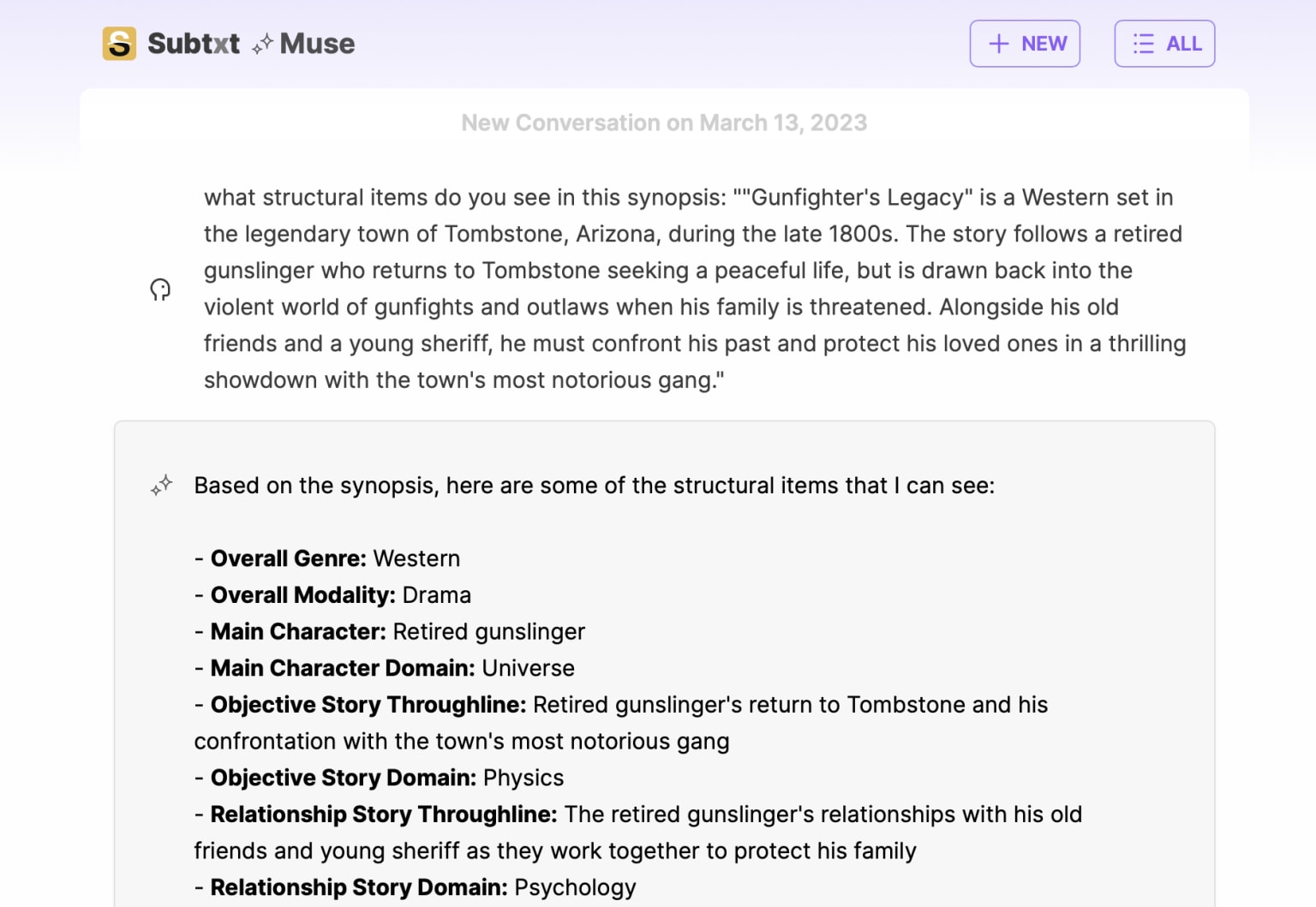 If Muse identifies anything that's missing, feel free to follow-up and explore how you could fill in those missing pieces. Once Muse has identified the Storyform for your story, proceed to the Premise Builder and begin to make the selections for your story that Muse suggested. In this way, you can quickly build the Storyform for your story based on your ideas and what you're looking for in terms of thematic exploration.
It's important to note that even if you don't have any ideas for your story yet, you can still start with a suggestion for a Genre. Muse can help you come up with the foundation for a complete story that could lead to a potentially entertaining and compelling narrative. With Subtxt Muse, you don't need to be an expert in story structure or have a fully formed idea to get started. Just let Muse guide you, and you'll be well on your way to developing a captivating story.
We hope this introduction to Subtxt Muse and the Storyform process helps you get started with your story. Don't hesitate to reach out if you have any questions or need further assistance. Happy storytelling!